Ошибка при обновлении Android: решение
Автор: Юрий Белоусов · 16.10.2019
При попытке установить новое обновление системы пользователи могут столкнуться появление разного рода ошибок, которые не дают этого сделать. В этой статье рассмотрим, почему при обновлении Android выдает ошибку и что делать в такой ситуации.
Почему при обновлении Android выдает ошибку
Основные причины, почему при обновлении Android выдает ошибку:
Недостаточно места на мобильном устройстве;
«Кривая» прошивка;
Неполадки в работе операционной системы;
Неполадки с интернет-соединением;
Ошибка в самом пакете обновления.
Ошибка при обновлении системы Android: что делать
Базовые рекомендации при возникновении ошибки во время обновления Андроид:
Выполнить перезагрузку устройства. Как и в случае с ПК, банальная перезагрузка устройства способна устранить большинство проблем;
Проверить наличие свободного места. Обновления системы иногда могут занимать немало места, а если не смартфоне или планшете его недостаточно, то могут выдаваться ошибки при обновлении Android;
Ручное обновление Android
Если при автоматическом обновлении ПО Android пишет ошибку, то стоит попытаться выполнить его в ручном режиме:
Следует зайти в настройки;

Перейти в раздел «О телефоне»;

Зайти в «Обновление системы»;

Запустить обновление.
Обновление Android через компьютер
Если при загрузке обновления через телефон выдает ошибку, то стоит попробовать обновиться через компьютер.
Для этого нужно использовать программы от официальных производителей мобильных устройств:
Если у вас смартфон или планшет другой фирмы, то ищите программу на официальном сайте производителя.
Сброс до заводских настроек Android
В случае серьезных неисправностей в работе смартфона или планшета, стоит сделать сброс устройства до заводских настроек.
Но нужно знать, что при сбросе до заводских настроек с устройства удаляются все данные, поэтому необходимо заблаговременно сделать резервную копию всей нужной информации, чтобы не потерять ее.
Видео-инструкция по сбросу Android:
Перепрошивка Android
Если даже после восстановления устройства до заводских настроек все равно выдает ошибку при обновлении Android, то скорее всего причина в изначально некорректной прошивке. Чаще такое случается на моделях телефонов малоизвестных производителей. Реже – у известных брендов.
Инструкцию по прошивке Android можно найти в этой статье:
Надеюсь, статья «При обновлении Андроид пишет ошибку: почему и что делать» была вам полезна.
Не нашли ответ? Тогда воспользуйтесь формой поиска:
Android System Update Fails to Install? How to Fix It
Don't feel frustrating if your device fails to install Android Pie, through reading this guide, you will know the reasons why you fail to install Android Pie and the methods to fix it.
Android Issues & Fixes
Android System Issues
Android Apps Issues
Samsung Phone Issues
DroidKit – Fix All Android System Issues
Recently, Google has officially released its latest version of Android Pie, which includes many built-in features that developed a huge craze among Android users for having this version on their device.В However, besides these attractive features, there is a rising issueВ – В Android update failsВ to installВ among the Android users when they update their device to the latest version.
Obviously, people were upset about this unknown error and have no idea why this issue appears and how to address it. That's why this guide exists. In this guide, we will give you the answers to why your device fails to update and what you need to do to fix it.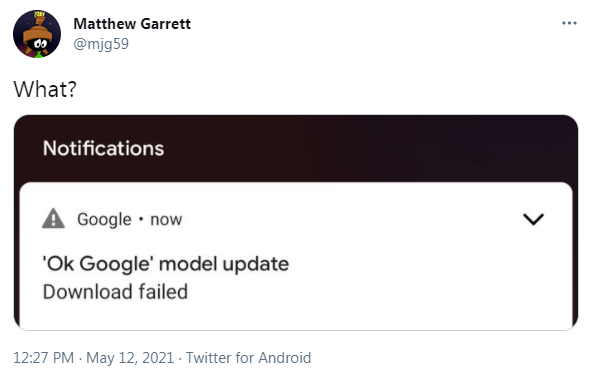 Ok Google Model UpdateВ Download Failed
Why Did Your Android Fail to Install Android Pie?
There can be many reasons for system update failure on a smartphone. Here we have listed the most common reasons as follows.
Your device is incompatible with Android Pie.
Insufficient storage space for the update.
Bad internet connection.
Google Play store updates create issues.
If you are also facing the problems mentioned aboveВ while installing a system update on your phone, how to fix the problemsВ of Android software update? NoВ worries! You can follow the solutions we prepared below to fix it.
1.В FixВ OkВ Google Model Update Download FailedВ Issue
No matter what caused the Ok Google model update download failed on your Android device, you can easily get it fixed with DroidKit – Android Phone Toolkit. As an Android troubleshooter, DroidKit helps millions of users get off the "Ok Google Model Update Download Failed" issue. Not just this problem, DroidKit is capable ofВ f ixing all Android system issues without root, especially when you ungrade the system. Check what else it can do for you below.
DroidKit – Full-Way Android Phone Toolkit
FixВ all kinds of Android system issues after upgrading/downgrading.
Recover lost data from your device even without Backup .
Save data from system-crashed Samsung device easily.
Lightning fast speed to fix all system issues at once.
Let's check out how to get the ok google model update download failed fixed now.
Step 1. Download and run DroidKit on the computer. Plug your device into the PC with your USB cable. Choose the "Fix System Issues" function in DroidKit.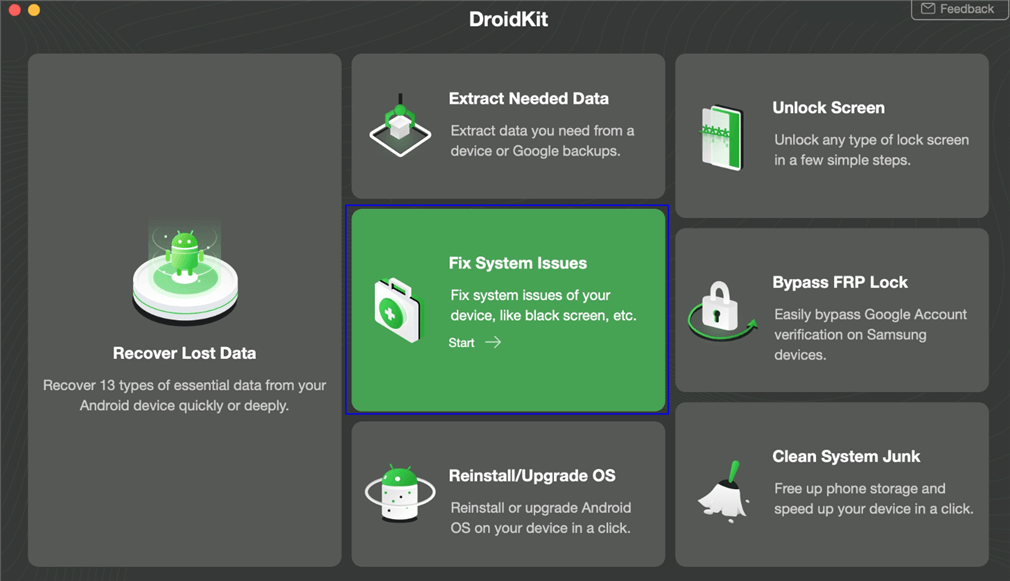 Click Fix System Issues
Step 2. Then it will lead you to the issue removal page. Tap on the Start to go on fixing. Ok, you need to know that the Fix System Issues function can only apply to Samsung devices so far.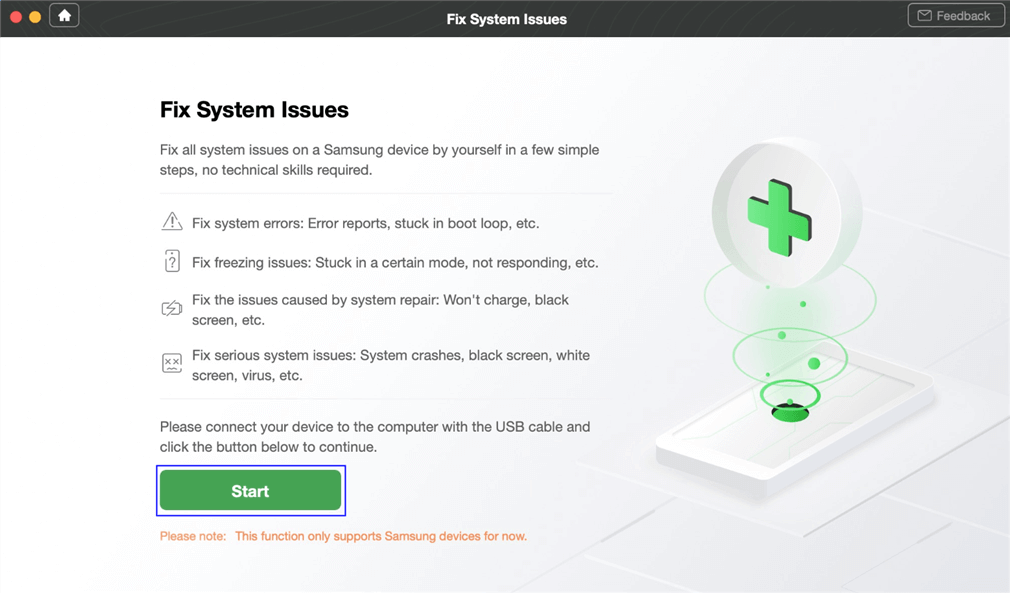 Click Start Button to Continue Fixing
Step 3. Follow the on-screen instructions, you will be asked to download the firmware and get your device into Download Mode. Then DroidKit will start your device fixing process.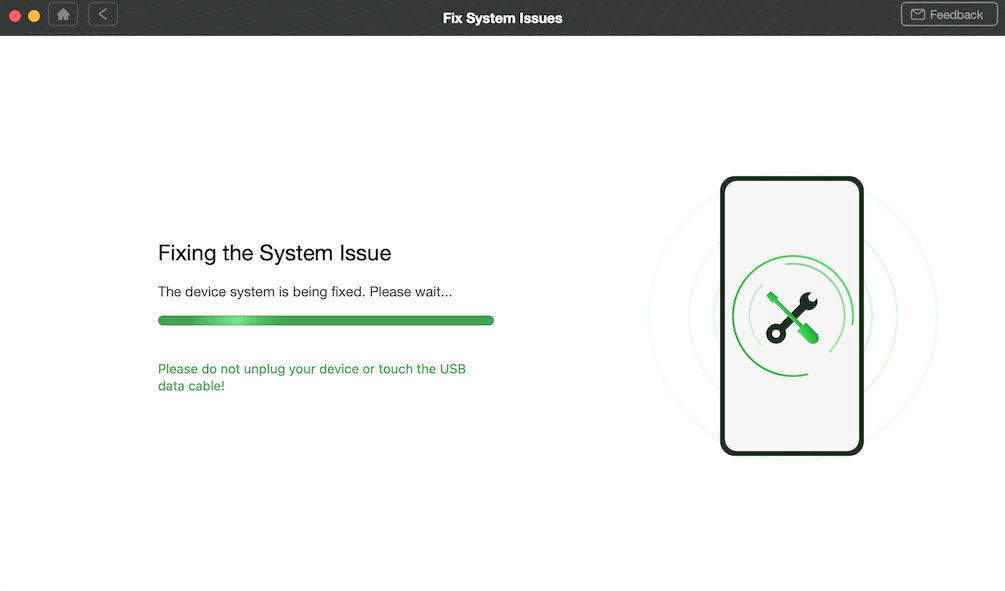 Fixing Android System Issues with DroidKit
Minutes later, when you see your device get over-started, it means your device fixing process has been completed. Restart your device to check if it is all right now.
2.В Check Your Device Model
You canВ go to check if your device is on the list that allows updating.В Only when your device is included on the list can you update it to Android Pie.
3.В Clear Storage Space
Many Android users face an Android system update failure due toВ the lack ofВ storage space. So, before the system installation process, you should make sure that you have enough storage space for the next update on your phone. If there's not enough storage space on your device, you can regainВ it by deleting unnecessary apps and data from your phone which you do not use. With the help of a reliable fine manager, you can delete junk and redundant files.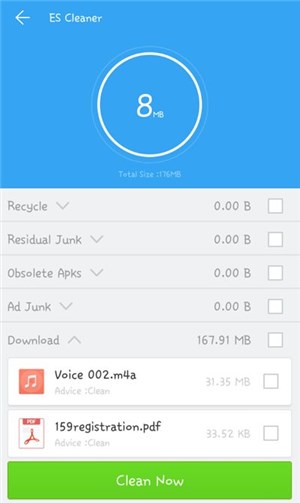 Clear Storage Space
4.В Check Internet Connection
To make sure that your system update does not get fail during the process, check your internet connection before starting the process. If you are using the Wi-Fi network for a system update, then you must have good internet speed. Otherwise, you can use your mobile network. Updating through a mobile network is a good option asВ there are various reasons that will cause you to disconnect from your Wi-Fi.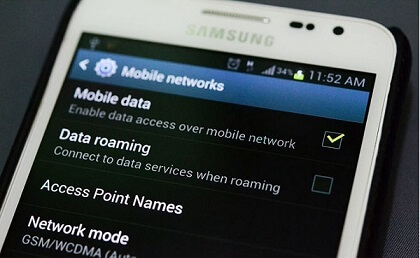 Check Internet connection
5. Clearing Data from Google Play Store App
If the problem occurs due to the Google play store updates, thenВ you canВ follow the below instructions to fix the update problem.
1. Open the "Settings" menu, and then go to the "Applications". Now, find the Google Play store from the list.
2. Once you find the Google play store app, then tap on "Storage" and then, clear cache and data.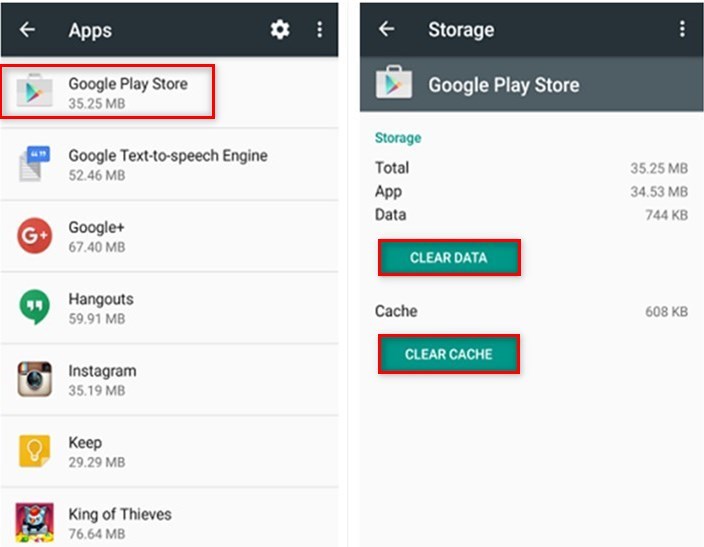 Clearing Data from Google Play Store App
3. You can even roll back to the Google Play version by installing updates. Doing this may fix your issue.
The Bottom Line
Now, you know the reasons for the error Android update fail to install.В If your System update issue is resolved with the above-mentioned solutions, then share this guide with your friends who are also facing the same update problem. This guide can be helpful for them to avoid problems during the next update installation. Download DroidKit to fix your problem now!
* 100% Clean & Safe

Member of iMobie team as well as an Apple fan, love to help more users solve various types of iOS & Android related issues.
Failed to Update Firmware Samsung
Firmware update failure. Please help!
I S7 Samsung mobile. I tried many times upgrading the android version as an inbuilt 6.0.1 version. I would like to update the android version naught or latest but when updates— it shows
"FAILED TO UPDATE FIRMWARE. VISIT SAMSUNG SERVICE CENTER"
Please guide and suggest ..
It seems a common issue that Samsung Galaxy phone failed to update the firmware while upgrading to the newer Android version. Whenever an Android user tries to download and install the latest OTA update. It gives an error like "Galaxy S7 Software Update Failed". Then how to fix the problem?
Samsung Galaxy S7 (Edge) failed to update its firmware to the latest version is not exclusive to the S7 (Edge) as it has also been happening to previous galaxy devices but the thing about this error is that it always has something to do with the firmware and this leaves owners at the mercy of authorized Samsung technicians.
Well, in this guide, we will talk about how to fix Samsung software update firmware error and successfully install the OTA update on Galaxy S7.
Before reading the Samsung Software Update Troubleshooting procedure, let's figure out the necessary preparation for the Android Oreo update.
Preparation for Samsung OTA Update:
First of all, please backup data on your Android device.
Make sure that the internet connection is stable and consistent. As the size of the update file is very big, so you need to have a good and reliable internet connection.
Then, ensure you have that much free space on your phone depending upon the size or the update.
How to Fix Samsung Galaxy S7/S8/S9 Phone Update Failed Error?
Back up data before fixing Android software update failure
It is important to backup all the data on your Android smartphone or tablet before all of the repairing procedure below. Because any Android firmware update or Android software issues repair could cause data loss during the process. The data loss might occur when your phone dies due to battery discharge, internet connectivity gets disrupted, or the screen gets frozen while the update is in process.
If you're agree with my opinion and need to do regular backups for your Samsung phone, please read this perfect solution for you to backup your Android to PC before factory resetting or clearing cache partition.
Fix Failed to Update Firmware Samsung Phone by Wiping Cache
Now follow the steps below to wipe cache partition, in order to fix the software update issue on Galaxy S7/S8/S9:
First of all, turn off your Galaxy S9, S8 or S7 phone.
Press and hold the Home and Volume Up keys, then long press the Power key till you see Android figure in the background.
Now you will be in Recovery mode of your Samsung S phone.
Use the Volume Down key, navigate through the Wipe Cache Partition option on your phone.
Once highlighted, you may press the Power key to select it.
Wait until you phone finished wiping the cache partition. Once completed, highlight "Reboot system now" and press the Power key.
The phone will reboot longer than usual.
Fix Android Software Update Failed Error by Android Repair
Android Repair is an Android system repair tool to fix Android system issues to normal with just one click. The most important is that even Android green hands can fix Android issues such as Android Software update failed, Android system crashed or frozen, Android phone charging problem, App keeps crashing, fix Android stuck in boot loop, and even your Android phone slow problem.
Android System Update Fails to Install? How to Fix "Software update is temporarily unavailable"
How to Fix Android System Update Fail? This is a common problem you may encounter while updating your Android. Update error is mostly comm in Samsung Galaxy S series phones. But, The question is how to fix the update fail error in any Android Smartphone including Samsung S series.
In This Article
What is Android System Update Fails to Install problem on Android? How to Fix "Software update is temporarily unavailable"
Android System Update Fails to Install
With the latest update of Android pie, Google introduced many missing features and functions to Smartphones running on Android OS. Nice GUI, enriched user experience, bug fixing, performance boost and many more.
But, on the other end, this all-new Android Pie came with a new issue. Users reported that they are getting an error while trying to update their Android version.
Read More: Musicpleer | Free Mp3 Music Download | Musicpleer App
People reported that they are facing an Android update fails to install error while updating their smartphones. However, all the Android Smartphones were affected by this unknown "Android Update Fail to install" but the Galaxy S series from Samsung was highly affected.
This left users astonished and wondering how to fix the update error on Android smartphones. When you try to update your Samsung Galaxy S series Android phone you get the error stating "Software update is temporarily unavailable"
This article is all about addressing the Android Updated error. The reasons behind the error and a permanent solution to fix the Android System Update Fail to Install error.
Other Article: KeepSafe Vault and KeepSafe Private Cloud-An Overview
Reason Why Did Your Android Fail to Install Update?
Google never fails to test all their products including OS on a strictly designed yardstick of quality but still, the Android fails to install update error seems to have the following reasons:
The device is incompatible with the new update
Bad Internet Connectivity.
Google Play store creating an issue causing update fail
Insufficient free storage space.
RELATED: Fix Unfortunately, System UI has stopped Android
How to Fix Android System Update Failed to Install
As we have discussed above there might be several reasons causing the Android to display the error Android system failed to install. Here are some working methods to fix the update error on your Android Smartphone for all popular brands including Samsung, Sony, Motorola and all.
However, this System update error is reported only on Android mobile running on the official Google Android OS. But, still, you can apply these solutions to your Android mobile running on stock Android OS as well.
Solution 1: Check Internet Connectivity
This is the common issue causing the Android Update error. Check your internet connection for proper connectivity to your Android device. If you are using your cellular data to download the update, make sure you have enough data connectivity and you can easily browse the internet.
However, it is recommended to perform an update when the mobile is connected to a high-speed Wi-Fi connection.
Solution 2: Check the Device model for Support type
This is the second common issue when the Android system update fail to install occurs. You might need to check whether the new update is compatible with your Android phone.
To do so, you can simply perform a Google search by typing your Android mobile model name and the Update you are trying to install on the mobile.
Solution 3: Clear your Android Storage Space
In order to download and install an update, all the data are downloaded and stored in phone's internal storage. No matter how much free space you have on your external SD Card. If you find a free space of fewer than 5 GB, try cleaning your Andriod Phone storage.
You can either perform manual cleanup or use any Android app to clean your Phone storage.
You can consider deleting your Android gallery images and videos. Try deleting unused apps. Read here: 7 things you can do to increase Android internal storage .
Solution 4: Clearing Cache Data From Google Play Store.
It may sound strange but yes, sometimes a malfunctioning Play Store can cause the error while updating the Android system. To fix the error simply follow the instruction below:
Go to 'Settings' on your Android phone.
Go to 'Application' and tap on the Google Play Store App.
Once you have opened the 'Google Play Store App setting', Tap on 'Storage'.
Here tap on 'Clear data' and 'Clear Cache' simultaneously.
Exit and try to update.
However, there are other methods to Wipe Cache partition on Android . You can use it at your convenience.
RELATED: How To Fix Play Store App Download Pending Forever
Solution 5: Replacing the SIM Card
Yes, this might sound stupid. But, the solution seems to works in most cases. I don't' know the reason behind this but recently I have fixed this Android System Update error on my Samsung Galaxy s4.
All you have to do is to purchase a new SIM card from the market or you may borrow a SIM card from your friends for a while. Replace the new SIM card with the old one on the phone and try to continue with the update.
Solution 6: Clean Phone Cache data
If still, your Android system update fails to install. You need to clean the Android cache partition. Some old cache might cause the Android system to display the Update error. Try cleaning Android Cache data and continue with the update. You can read here to know How to Clear Android Cache Partition .
Solution 7: Reboot Android in Safe mode
Booting Android in safe mode is used to diagnose the hardware errors on Android. Malfunctioning hardware can also keep Android from updating the software.
Android System Update Failed to Install-Final Words:
Here were the top errors causing the Android updating to fail. All the methods mentioned above are tested and seem to work for all Android Smartphones including Samsung Galaxy S series. Don't forget to use the comment box below for queries and suggestions.