Fix: "File is Damaged and Could Not Be Repaired" When Opening Documents
The error often arises while accessing a PDF file in Adobe Acrobat PDF Reader. Unsupported PDF, corrupted files, and outdated Adobe Acrobat PDF Reader are some of the common causes that can trigger Error: There Was an Error Opening This Document. The File is Damaged and Could not be Repaired .

Fix- There Was an Error Opening This Document. The File is Damaged and Could not be Repaired
Although there are plenty of reasons that can trigger this error, we have composed most of them below:-
Enabled Enhanced Security Mode- As it turns out, if the enhanced security mode is enabled, you may encounter this error message. Therefore, you may need to disable Enhanced Security Mode before proceeding to the solutions.
Outdated Adobe Acrobat PDF Reader- Outdated Adobe Acrobat PDF Reader can be one of the main reasons that can bring Error: There Was an Error Opening This Document. The File is Damaged and Could not be Repaired . According to affected users, the error can occur due to outdated software that does not support the specific PDF file.
Corrupted Browser Files- If you encounter the error while accessing the PDF file via browser, it might be due to the corrupted temporary data. To avoid this, you may need to remove the temporary browsing data to open the PDF file.
Corrupted PDF File- The file you are trying to open might get corrupted during the downloading process. To fix this, you need to re-download the PDF file.
Unsupported PDF File- The error could also be caused by the unsupported styles used in the PDF file, as some styles are still unsupported in the AutoCAD software.
1. Disable Enhanced Security Mode
Enhanced Security Mode is a feature in Adobe Acrobat PDF Reader that provides a method to specify the location of the trusted files because some locations are not allowed in Adobe Acrobat PDF Reader. By using this feature, you can either prevent the dangerous action or permit them at your risk. The main reason for creating this feature is to restrict irrelevant document behaviors. This is why the Enhanced Security Mode may prevent you from accessing a PDF file.
To disable the enhanced security mode, launch the Adobe Acrobat PDF Reader and click on Edit
Select Preferences from the listed options Navigate to Preferences
Click the (Security Enhanced) from the left pane, then under Enhanced Security, uncheck the option Enabled Enhanced Security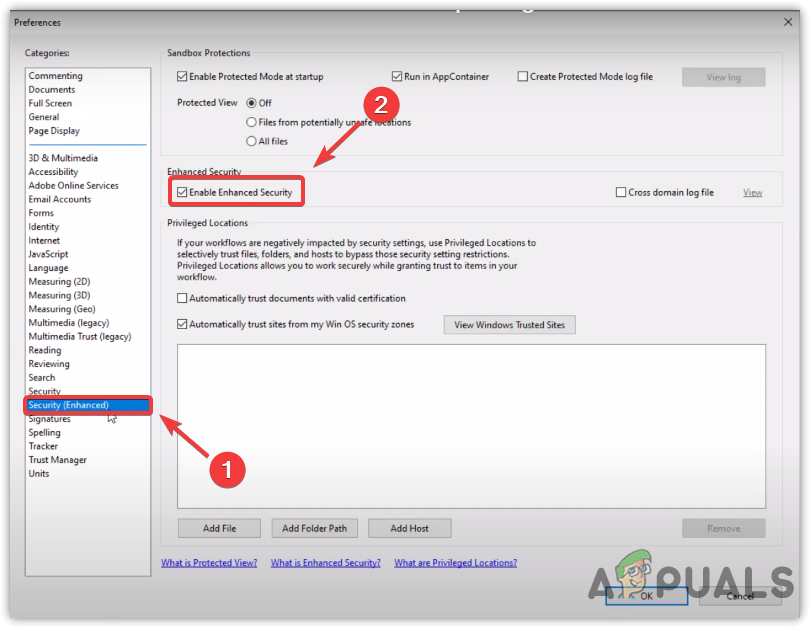 Disable Enhanced Security
Once done, click OK for the changes to take effect
Now restart Adobe Acrobat PDF Reader and check if the error persists.
2. Repair Adobe Acrobat Reader
Another reason for the emergence of the error is the corrupted Adobe Acrobat Reader software. Some software gets corrupted due to malware attacks which can damage essential files running in the background. Adobe Acrobat Reader.exe file might be one of them. Follow the steps to repair Adobe Acrobat PDF Reader:-
Press the Win + R key simultaneously
Type Appwiz.CPL and hit Enter to navigate Programs & Features in the control panel Type the Command to Navigate Programs and Features
Find and right-click Adobe Acrobat PDF Reader, then click Change


Click Change
Then, click Next and select the Repair option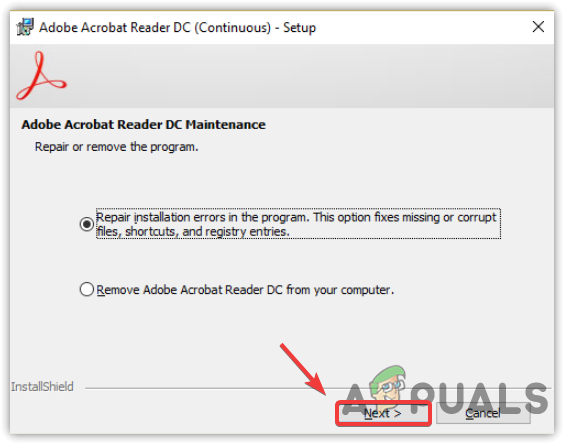 Click Next to Start Repair
The repair process will start. Once done, launch the Adobe Acrobat PDF Reader and see if the error is fixed.
3. Make sure Adobe is up to date
If you use an outdated version of Adobe Acrobat Reader, you will encounter this error message as the PDF file might be compatible with the outdated Adobe Acrobat Reader. Therefore, ensure that the software are you using is not outdated. If it is then follow the below steps to update it.
Open Adobe Acrobat PDF Reader and click Help from the top right
Click Check For Updates from the list of options Checking For Updates
Let the Adobe Acrobat PDF Reader check for updates, if the software found the latest updates, then update it Updating Adobe Acrobat Reader
Once done, restart the software and check if the error persists.
4. Make Sure the PDF file is not Located in Network Share
After detail researched, we found that if the file you are trying to open is located in the Network Share folder or Roaming Profiles, you will encounter this error message because the content under these folders can be shared over a network, and these locations are not allowed by the Adobe Acrobat Reader.
5. Remove Browser's Temporary Files
If the error arises while opening the PDF via browser, we recommend you clear the browser's temporary data that stores your browsing history, cookies, passwords, and web information. Removing the browser's temporary files may fix this error as corrupted temporary files conflict with the Adobe Acrobat PDF Reader software.
To clear the browser's temporary files, press the Win + R on the keyboard
Type inetcpl.cpl and click OK to navigate into Internet Properties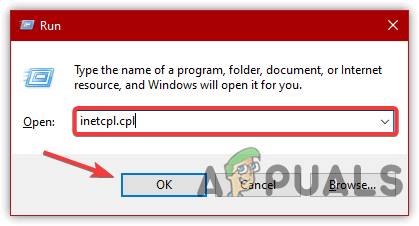 Launching Internet Properties
Click Delete and click Apply then click OK to save the changes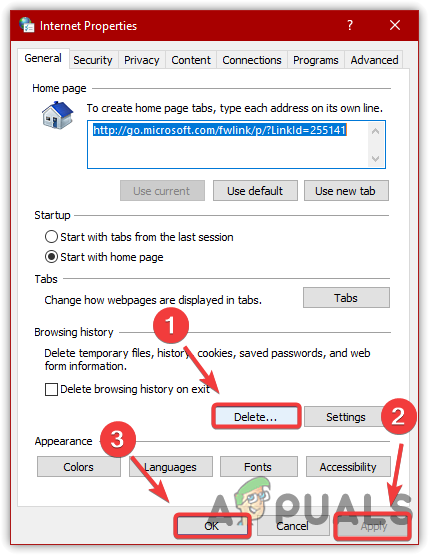 Deleting Browser History
Once done, launch the Adobe Acrobat PDF Reader and check if the issue persists.
6. Re-download the PDF
There is a good possibility that the file you are trying to access in Adobe Acrobat Reader was corrupted in the downloading process. If there was any lag in your network, the PDF file might get damaged and cannot open. Either you can repair the file using third-party software or re-download the PDF file. We recommend you go for a re-download because it will not take much time. If the error persists after re-downloading a PDF file, it is probably due to the corrupted software file that was not repaired.
7. Reinstall Adobe Acrobat Reader
If all the solutions fail to fix this, try reinstalling the Adobe Acrobat Reader because the Adobe Acrobat PDF Reader files may be corrupted or damaged which can be fixed by reinstalling the software. below are the steps to reinstall the software:-
Click Start Menu and type Control Panel to open it Launching Control Panel
Once you navigate to the control panel, click Uninstall a Program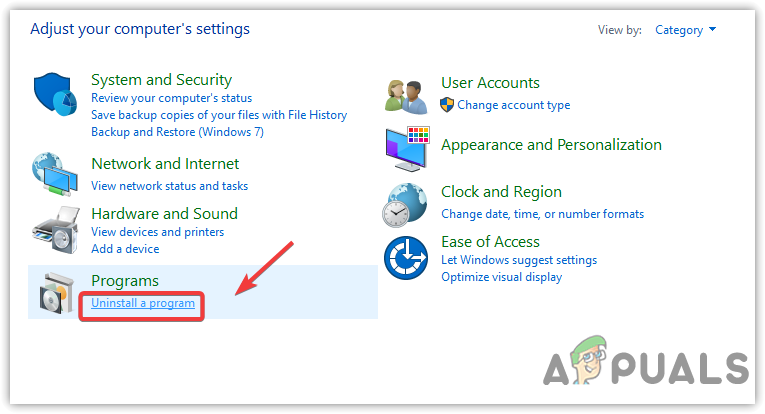 Navigating to Programs and Features
Find and right-click on Adobe Acrobat PDF Reader
Click Uninstall and wait for the process to finish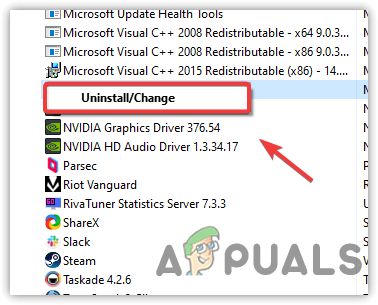 Uninstall Adobe Acrobat Reader
Once done reboot your computer for complete installation
Then, download the latest Adobe Acrobat PDF Reader
Once done, check if the error is resolved.
8. Use Different Software to open PDF Documents
You must know that it is not necessary to use Adobe Acrobat Reader to open the PDF file. There is plenty of software available on the internet that might be able to open those files that Adobe Acrobat Reader could not. You can Freeware Foxit reader to open the PDF files.
There Was An Error Opening This Document. The File is Damaged and Could Not be Repaired
Portable Document Format or PDF file is a document file that can be read using the Acrobat Reader launched by Adobe. It is a highly secure and easily convertible format that can be accessed across platforms. It is compatible with computers running Windows, Mac, and Linux operating systems. It provides the latest features of advanced document storing, publishing, printing, merging, and protection. Users can add media files and hyperlinks to their .pdf file. Often there is corruption in the PDF file and errors are generated. The document data cannot be accessed as a result of these bugs and issues. People look for workarounds to solving this problem. For those who are still surfing for solutions, this post sheds some light on the topic. The post discussed the issue on how to fix There was an error opening this document. Read more to found out what it is all about and how to recover data from such issues.

Reasons for PDF File Damaged and Cannot Be Repaired
Often users encounter errors such as There was an error opening this document. The file is damaged and could not be repaired. And There was an error opening this document access denied or PDF structure 40 invalid reference table (Xref). Similarly, another example of an error message includes Format Error: Not a PDF or corrupted. There is also an issue even while editing the document saying You do not have sufficient permissions to perform this task. There can be many reasons for such errors and issues. Following are some of the reasons as to what causes the PDF file to be damaged.
Virus or malware attack on the file or the sector/partition where the file is being kept.
Incomplete data download or improper way of information transfer that may cause errors.
Any interruption between data transfer or download may be causing the corruption in PDF file.
Intermittent internet or power connection may cause PDF file corruption.
Downloading multiple .pdf files over a slow internet connection.
Adobe Acrobat and Acrobat Reader memory corruption.
Using an outdated version of Adobe Reader which is not compatible with modern files.
How To Fix A Corrupted PDF File?
There are few solutions that can be applied to fix corruption in a .pdf file. Some of them have been described below.
Method #1 Clear Internet Temporary Folder
Many times there are errors generated due to improper download or browser settings. Sometimes an error is shown while opening large PDF files through a browser. This could be caused by the overflowing offline storage folder of an internet browser. This can be checked easily. It is recommended to perform this practice regularly. Repeat the steps below to perform the said procedure.
In IE, go to Tools >> Internet Options >> Advanced Tab
From the Security section, check the box next to Empty Temporary Internet Files Folder when Browser is Closed
Next, click on the Apply button and then the OK button
To increase the size of the Temporary Internet Folder, go to Tools >> Internet Options >> General Tab
From the Browser History section, click on the Settings button. Change the number next to Disk Space to Use. And then click OK button
Now, try to Restart the browser and Download the file again.
Method #2 Check the Adobe Reader
More than one time, errors generated in accessing the PDF file is caused by problems with the Reader. There may be some corruption or errors that disallow users from opening their .pdf file. To repair the corruption and get access to Adobe document data, follow the steps below:
Start process by closing the Acrobat Reader
Next, go to Start >> Control Panel >> Programs >> Programs and Features >> Add or Remove Programs
From the list, locate Adobe Reader or Adobe Acrobat. Now, click on Change and follow the instructions
Alternatively, try to repair a damaged PDF files by updating the Adobe Reader. Launch the application and go to Help >> Check for Updates. If there is an update available then download and install the latest version.
Method #3 Use an Expert Solution: There Was An Error Opening This Document
There may be a high-level corruption in PDF file that cannot be repaired using manual methods. Alternative solutions have to be applied like using a third party software. These are professional solutions designed to resolve the ever going issues related to PDF files. The format is very popular among home as well as business users. There may always be chances of corruption in files when a reliable PDF File Recovery Software can come handy. The utility repairs and recovers all type data including text, images, media files. It is easy-to-use software that works with all versions of Windows including Windows 10. It is compatible with all versions of Adobe Acrobat 11.0 or below.
Final Words
There are new issues every day where either PDF file cannot open or the document data can not be edited. Some of the reasons for what caused the issue has been discussed in this post. There are recurrent error messages played that say There was an error opening this document. This clearly indicates corruption of some level in the document files. Manual methods can be approached to fix such issues. To repair high-level corruption a third party utility has also been described in this post. Users must understand all the solutions and their pros and cons. And then make a decision on how to fix the error.
By Ugra Narayan Pandey
Ugra Narayan Pandey has experience of more than 10 years in the Technical arena and he has expertise in Cloud Security, Cloud Migration, Data Security, Data Recovery, Email Backup, and many more.