DJI Downward vision sensor calibration error- 4 ways to fix it

Downward vision sensors are the small camera lens-looking holes located beneath the drone.
They are used to stabilize the altitude of the drone and allow for a safe landing, which means that if they are not working properly, your drone will have difficulty maneuvering itself.
However, if you have this error in the first place, the software will frequently refuse to allow you to lift off, which is very frustrating.
It's a common problem with DJI drones, but it's relatively simple to fix.
How do you fix downward vision sensor error?
You can fix DJI drone's downward vision sensor error by recalibrating the drone with DJI assistant software. Download DJI Assistant 2 from DJI's website, make sure it is the version that is suitable for your drone. The software will guide you through the process of recalibrating, it can take up to 20 minutes.
That may solve your problem, but if it does not, I will discuss four other options. The first three are fairly straightforward and generic, and they will help 80% of people. The last one is a pretty ninja technique, and hopefully it will solve the remaining 20%. but first start off by recalibrating your drone.
Method 1. Recalibrate your drone in DJI Assistant 2
If you already have flown your drone, you already have calibrated your drone on the DJI assistant software, so you already know how to calibrate your drone.
Now this "downward vision sensor calibration error" which you see on your phone or the screen of your controller can be because the drone has lost the previous calibration.
So you have to recalibrate-
Download DJI Assistant 2 from dji.com.
Use the proper software, every DJI lineup have a different software

This is for the phantom lineup
This is for the FPV lineup
This is for the Mavic lineup

Finally, the software will guide you through the process
Now I have seen a lot of people's calibration process getting stuck mid-calibration and some people will finish the process then it will stop after it reaches %71 of the calibration process.
so if this is happening to you this might be the problem-
Don't use a curved screen.
Use a bigger screen
Uninstall the current software you have from your computer and download it again.
try it on different screens
If this doesn't fix the problem it can be because you have an outdated firmware or your drone is damaged-
Method 2. update firmware
Outdated firmware can also be the issue, I have seen people use a 2019 version in 2021 which is kind of scary to be honest, anyways to update your software follow these
Connect both the drone and controller to your mobile device using the supplied cable.
Make sure both drone controllers are powered on and have a full battery
Open DJI GO 4 or DJI Pilot.
Within the app, a notification will appear letting you know if there is an update available(in the home screen, not the camera view screen)
Tap Firmware Download.
After updating the firm wear to get rid of the sensor calibration error you might have to recalibrate your drone.
*Note: before firmware update make sure all your drone, controller, and phones battery are fully charged because it can take up to 30 minutes*
Method 3. Clean the vision sensor
If you had a crash and there is dirt on the lens
If you have flown in rain or fog or even in high humidity and there is precipitation inside
If there some kind of lotion grease or food particles that got transferred from your hand to the lenses
If the sensor is not squeaky clean there is a high chance it is causing the problem.
To clean the sensor you only need a soft cloth, unless there is precipitation inside, in that case the lenses must be removed and cleaned.
Also if your drone has been with DJI for a repair you should also check if there is no plastic covering on the sensor because when you send a drone to DJI to get it fixed they oftentimes send you a refurbished drone which often has plastic coverings on the sensors
Method 4. turn on the drone mid-air
So the last technique which is pretty awesome and easy to turn your drone on mid-air, so it is a very straightforward and simple process-
Pick up your drone of the ground at an about 1 foot about 12 inches distance from the ground
Then tun it on as you normally would
Make sure you are not covering the sensors with your hand
What this does is it resets the downward vision sensors and that will hopefully fix the error.
The problem with the method is that the error might come again after some time.
Last solution
If none of these solutions work, I'm afraid you'll have to turn it over to a professional. If your drone is still within one year of purchase or activation, there is a good chance DJI will repair it for free (except for shipping costs). If you have DJI care, the shipping will be covered as well.
If you don't want to ship your drone you can also get it fixed in local drone stores.
What happens if you fly without calibrating your drone?
if you manage to take off the ground you probably couldn't cause the software let you but if you did there high a high chance you will have an unsafe landing or even a crash.
6 Ways to Fix Mavic Pro IMU Calibration Error -50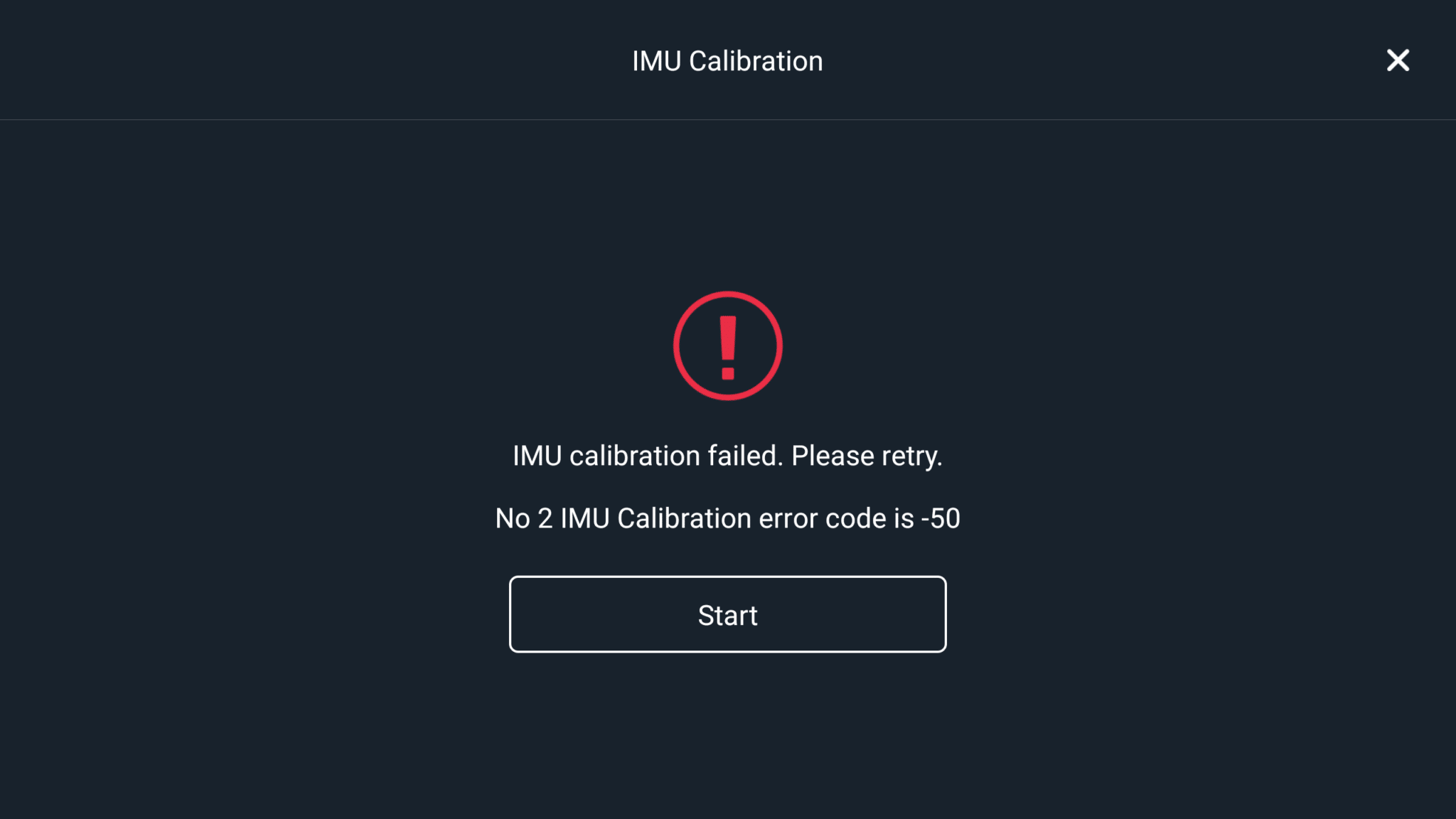 There is a problem with DJI Mavic pro where it gives you " IMU calibration error code -50″ I had this exact problem a couple of days before writing this article, and I went on google but no one had a clear answer.
Then I contacted DJI support but they couldn't have been more naive, anyways after reading a bunch of forums, hours of frustration, I finally solved mine so I thought I could do the same for others
What is causing Mavic Pro IMU Calibration Error -50
There is no one single reason you are getting IMU Calibration Error -50 on your Mavic pro, but the common reasons are, being near to a metal structure, a messed up software and/or hardware.
So in the next sections, I will show you how to properly calibrate your Mavic mini.
1. perform IMU calibration
For a successful IMU calibration, it is crucial that you follow the steps exactly as you see on the screen, or you will get stuck on one of the steps.
Before doing this process you can turn your house's ac to go below room temperature, Get the AirCraft (A/C) as cold as possible, you can even place it in a refrigerator, and then recalibrate the IMU.
The colder you can get it, the sooner you can get the process started after removing it from the cold area.
You can also do this process at night outside of your house where the temperature is colder, then when you want to fly your drone at day time it wouldn't take as much time to initialize IMU.
First, startup Aircraft & Controller
From DJI go 4 app go to Menu on the top right
Go to Aircraft button (in the menu the uppermost button)
Then go to Advanced Settings then Sensors State
"IMU Calibration"
When done (can take UP TO 10mins!) -> "Check IMU"
2. Refresh firmware in DJI assistant 2
You should also do the classic troubleshooting methods staring of with refreshing the firmware
Power on the drone
Connect it to your computer using the USB cable DJI provides
Open the DJI Assistant 2 software on your laptop
Log in to the DJI Assistant 2 app and select your drone
Next, you will see the firmware version
Tap update and choose the latest version
If it is already the latest version click refresh
Repeat process with other batteries(if you own one)
Update/refresh Controller Firmware
The Drone's and the controller's firmware must match so after refreshing or updating your drone's firmware you should do the same for the controller.
So, to update/refresh your RC's firmware-
Power on the remote controller
Connect it to your computer using a USB cable provided
Open and log into the DJI Assistant 2 software on your laptop
Select your drone's remote controller
Next, you will see the firmware version
Tap update if you have an older version or tap refresh if it is up to date
Click on "Start Update"
On the next screen, you will see the firmware being downloaded, then transmitted and updating the remote controller
At 100%, you will see the message, "Update Complete"
After the firmware is complete, the controller will restart automatically
3. Downgrade firmware
If both of the previous methods don't seem to work, you can downgrade the firmware till the next update comes out.
You can downgrade your firmware both in DJI assistant and DJI go 4.
To downgrade firmware in DJI assistant–
Power on the drone
Connect it to your computer using the USB cable
Open the DJI Assistant 2 software on your laptop
Log in to the DJI Assistant 2 app and select your drone
Next, you will see the firmware version and older versions lined up
Choose the version one below the current version you have
Then click install
Then the drone will automatically restart
To downgrade firmware in DJI go 4
press and hold the menu icon (three horizontal lines in the top right corner) for five seconds and a special firmware menu appears. You can now select which previous firmware version you would like to downgrade to. Check it out.
It is better if you downgrade with DJI go 4 because the controller will follow automatically.
If you downgrade in DJI assistant you most likely have to do the same with the controller
4. Factory reset the Mavic pro
First, Install the DJI Assistant 2 Program on your device, make sure you download the proper one.
Connect your drone to your laptop using the USB cable provided, and wait for the software till it to detect your drone
You'll be able to see your drone on the Connected Devices screen. Select your drone and then click on confirm.
Click on Firmware Update. After that, you'll be able to see the "Restore factory defaults" button.
Click on the factory reset button and then confirm when you are asked to confirm the reset. A progress bar will pop up showing the progress of the reset. You'll be notified when the reset is complete.
Note: After a factory reset you have to calibrate everything again.
5. Use a different phone
If you are using android to calibrate the IMU and it is not working try swapping it with ios, and vice versa.
6. Change location and avoid metal structures
I am not sure why but DJI recommends doing IMU calibration on an open field, so if you are doing the imu calibration in a tightly enclosed space go out and try it again.
Final choice
If none of the methods fix it you there might be a problem with one internal component and you might to send it to a professional.
If your drone is within a year period from activation, which I would guess is not because this error usually happens on older drones, however, if it is or if you have DJI care DJI will fix it for you for free
If not you might have to pay a good sum of money depending on the situation
After you hand it to DJI it can take up to 15 days till they fix it and send it back to you, and it can take longer if you don't live in the united states
If you are located in Armenia, you may contact the local dealer or DJI's support via email to start a case and send the unit back.
Как исправить ошибки Power Calibration в Windows 10, 8.1, 7
Вы когда-нибудь получали Ошибка калибровки питания при попытке записать CD или DVD в Windows 10, 8, 7? Если да, то вы можете прочитать эту статью, чтобы быстро решить эту проблему и предотвратить ее повторение. Обычно эта ошибка возникает, когда скорость записи CD или DVD в Nero или другом приложении установлена ​​неправильно.


Когда вы получаете сообщение об ошибке калибровки питания в Windows 10, 8, 7 во время записи компакт-диска, он не должен ломаться. Однако в большинстве случаев вы обнаружите, что если вы получите эту ошибку, ваш CD или DVD не будет работать во второй раз. По этой причине, если у вас возникла эта проблема с определенным компакт-диском, лучший способ решить эту проблему – вставить новый компакт-диск или DVD-диск и выполнить действия, перечисленные ниже.
ИСПРАВЛЕНИЕ: сбой процесса записи ошибки калибровки питания

Проверьте настройки программного обеспечения Nero
Очистите свой диск
Используйте более низкую скорость записи
Отключить службу IMAPI
Установите другое программное обеспечение для записи CD/DVD
1. Проверьте настройки программного обеспечения Nero

Вам нужно будет найти в Интернете Nero Burning Rom для установки, но убедитесь, что это последняя версия и она совместима с вашей операционной системой Windows 10, 8, 7.
Дважды щелкните левой кнопкой мыши на значке «NeroSmartStart», который находится в загруженной папке Nero.
После того, как вы откроете его, вы увидите, что в главном меню программы есть функция «Extras», щелкните по ней левой кнопкой мыши.
После того, как вы откроете меню «Extras», щелкните левой кнопкой мыши на «Control Drives Speed».
Откроется окно «Nero DriveSpeed».
Щелкните левой кнопкой мыши на вкладке «Параметры» в окне «Nero DriveSpeed».
Убедитесь, что вы установили флажок «Запускать при запуске».
Убедитесь, что вы установили флажок рядом с «начать сворачивать».
Снимите флажок «Восстановить настройки скорости при запуске».
Оттуда вам нужно выбрать правильную скорость записи для CD или DVD.
Щелкните левой кнопкой мыши по кнопке «ОК», которая находится в этом окне в нижней части.
Перезагрузите устройство Windows 10, 8, 7.
В первом окне (главном окне) в «Nero DriveSpeed» щелкните левой кнопкой мыши «Скорость чтения» и выберите правильную скорость для вашего компакт-диска.
Вам также нужно будет проверить скорость записи, если она равна «Текущая скорость», если она не выбрана надлежащей скоростью записи в соответствии с возможностями компакт-диска.
Примечание: «Скорость чтения» должна быть таким же, как «Текущая скорость».
Каждый раз, когда вы хотите записать CD или DVD, вам нужно будет проверить скорость записи с помощью функции «Nero DriveSpeed» и, если она не подходит, отрегулируйте ее соответствующим образом, выполнив шаги, описанные выше.
2. Очистите свой диск

Иногда частицы пыли могут вызывать различные проблемы с записью CD или DVD, включая этот код ошибки. Итак, убедитесь, что ваш дисковод чист. Кроме того, вы можете профессионально очистить лазерный объектив горелки (или вы можете сделать это самостоятельно, если знаете, как это сделать), чтобы убедиться, что все работает гладко с аппаратной точки зрения.
3. Используйте более низкую скорость записи

Многие пользователи подтвердили, что им удалось решить эту проблему, записав свои CD и DVD на более медленной скорости.
4. Отключите службу IMAPI

Если проблема не устранена, вы можете попытаться отключить службу IMAPI. Вот шаги, чтобы следовать:
Откройте Панель управления> перейдите в Администрирование (просто введите «сервисы» в меню поиска)> перейдите к Сервисам
Найдите IMAPI CD-Burning COM Service> щелкните правой кнопкой мыши на нем> перейдите в Свойства.
Перейдите к типу запуска> установите его на Отключено.
Попробуйте снова записать диск или вставьте новый диск.
5. Установите другое программное обеспечение для записи компакт-дисков.

Если ничего не помогло, попробуйте установить новое программное обеспечение для записи CD или DVD на свой компьютер. Некоторые программные решения могут быть не полностью совместимы с вашей ОС или оборудованием, и установка другого инструмента может помочь вам решить проблему.
Эти быстрые и простые шаги помогут вам правильно записать свой CD или DVD в Windows 10, Windows 8 или Windows 7 и исправить ошибку калибровки питания, которую вы можете получить. Если это решение сработало для вас, сообщите нам об этом в комментариях ниже. Если у вас по-прежнему возникает та же ошибка калибровки питания, мы постараемся найти дополнительные способы устранения неполадок.