Ошибка 504 Gateway Time Out — что значит почему она возникает и как ее исправить?
Ошибка 504 Gateway Time out – это код состояния HTTP , который означает, что один сервер не получил своевременный отклик от другого сервера, к которому он обратился, пытаясь загрузить веб-страницу или выполнить запрос браузера. Она может возникать вместе с 502 Bad Gateway .
Другими словами, ошибка 504 указывает на то, что у сервера, на котором расположен сайт и у компьютера, на котором выскакивает ошибка 504, отсутствует стабильное достаточно быстрое соединение с интернетом.
Как можно увидеть ошибку 504 Gateway Time out
Отдельным сайтам разрешено настраивать отображение ошибки Gateway Timeout . Вот несколько распространенных способов вывода подобной ошибки:
Ошибка 504 Gateway Time out появляется внутри окна браузера, как обычная веб-страница. На ней могут быть знакомые верхние и нижние колонтитулы сайта и красивое английское сообщение. Также подобная ошибка может отображаться на полностью белой странице с большой цифрой 504 вверху. Это одно и то же сообщение, независимо от того, как сайт показывает его вам.
Помните, что ошибка 504 Gateway Time out и 502 Bad Gateway nginx может появиться в любом браузере, операционной системе и на любом устройстве.
Причины возникновения ошибки 504 Gateway Time out
В большинстве случаев ошибка 504 Gateway Timeout означает, что любой сервер, который выдает « тайм-аут », » упал » или неправильно работает.
Поскольку эта ошибка обычно возникает между серверами в интернете, то, вероятно, она не связана с вашим компьютером, устройством или интернет-соединением.
Как исправить ошибку 504 Gateway Time out
Перезагрузите веб-страницу, нажав кнопку обновление / перезагрузка, в F5 или повторив URL-адрес из адресной строки.
Несмотря на то, что 504 Gateway Timeout и ошибка 502 Bad Gateway сообщает о неподконтрольной вам ошибке, проблема может быть временной. Просто перезагрузите страницу — это быстро и легко.
Перезапустите все сетевые устройства. Временные проблемы с модемом, маршрутизатором, коммутаторами или другим сетевым оборудованием могут вызывать ошибку 504 Gateway Timeout . Простой перезапуск этих устройств может помочь.
Подсказка : При том, что порядок выключения этих устройств не важен, порядок включения их наоборот очень важен.
Проверьте настройки прокси-сервера в своем браузере или приложении. Убедитесь, что они верны. Неправильные настройки прокси-сервера могут вызвать 504 ошибку.
Подсказка . Смотрите Proxy.org обновленный, проверенный список прокси-серверов, которые можно использовать.
Примечание . Большинство компьютеров не имеют настроек прокси-сервера, поэтому, если ваши настройки пусты, пропустите этот шаг.
Измените DNS-сервер. Возможно, ошибка 504 Gateway Timeout , которую вы видите, вызвана проблемой с DNS-сервером , который вы используете.
Примечание . DNS-сервер , используемый сейчас, вероятно, автоматически назначается вашим провайдером. К счастью, для использования доступны другие DNS-сервера , которые можно выбрать.
Подсказка . Если не все сетевые устройства получают ошибку HTTP 504 или 502 error Bad Gateway , но все они находятся в одной сети, изменение DNS-сервера не сработает. Если это похоже на вашу ситуацию, переходите к следующей идее.
Если изменений не произошло, обратитесь к сайту. Это единственное, что вы можете сделать. Велика вероятность, что администраторы сайта уже работают, чтобы исправить первопричину ошибки 504 Gateway Timeout .
На большинстве сайтов есть учетные записи социальных сетей, которые они используют для поддержки. А некоторые даже имеют номера телефонов и адреса электронной почты.
Подсказка . Если начинает казаться, что сайт выдает 504 ошибку для всех, поищите в Twitter в режиме реального времени информацию о недоступности сайта. Лучший способ сделать это — найти #websitedown в Twitter . Например, если Facebook может быть недоступен, выполните поиск по тегу #facebookdown .
Обратитесь к своему интернет-провайдеру. Вероятнее всего, что после описанного выше устранения неполадок, выскакивающая 504 Gateway Timeout — это проблема, вызванная неполадками в Сети, за которую отвечает ваш провайдер.
Вернуться позже. На данный момент вы исчерпали все варианты, и ошибка 504 Gateway Timeout устраняется администратором сайта или интернет-провайдером.
Регулярно проверяйте сайт. Без сомнения, он снова начнет работать.
Исправление ошибки 504 Gateway Time out на вашем собственном сайте
В большинстве случаев это происходит не по вашей вине, но и не по вине пользователей вашего ресурса. Начните с проверки того, что сервер может правильно предоставлять доступ ко всем доменам, к которым требуют доступ ваши приложения.
Большие объемы трафика могут привести к тому, что ваш сервер будет выдавать ошибку 504 . Хотя 503 или ошибка 502 Bad Gateway будет более вероятна.
В частности, в WordPress сообщение 504: Gateway Timeout иногда возникает из-за поврежденных баз данных. Установите WP-DBManager и попробуйте применить функцию « Восстановить БД », а затем « Оптимизировать БД ». Посмотрите, поможет ли это.
Убедитесь, что ваш файл HTACCESS правильный. Особенно если вы только что переустановили WordPress .
Свяжитесь с технической поддержкой хостинга. Возможно, ошибка 504 , возвращаемая вашим сайтом, связана с проблемой на их стороне, которую они должны решить.
Больше способов увидеть ошибку 504 Gateway Time out
Ошибка Gateway Timeout при получении в Windows Update генерирует код ошибки 0x80244023 или сообщение WU_E_PT_HTTP_STATUS_GATEWAY_TIMEOUT .
В программах на базе Windows , которые изначально обращаются к интернету, ошибка 504 может отображаться в небольшом диалоговом окне или окне с ошибкой HTTP_STATUS_GATEWAY_TIMEOUT и/или сообщение The request was timed out waiting for a gateway ( истекло время ожидания запроса для шлюза ).
Менее распространенная ошибка 504 — это Gateway Time-out: The proxy server did not receive a timely response from the upstream server ( прокси-сервер не получил своевременного ответа от вышестоящего сервера ), но поиск и устранение неисправностей ( указанных выше ) продолжается.
Ошибки похожие на 504 Gateway Time out
Ряд сообщений об ошибках аналогичен ошибке 504 Gateway Timeout , поскольку все они происходят на стороне сервера. Некоторые включают в себя ошибку 500 Internal Server (« Внутренняя ошибка сервера »), ошибку 502 Bad Gateway ( что это означает — «Неверный шлюз» ), и ошибку 503 Service Unavailable (« Сервис временно недоступен »), среди нескольких других.
Существуют также коды статуса HTTP , которые не являются серверными, а возникают на клиентской стороне. Например, часто встречающаяся ошибка 404 Not Found (« Страница не найдена »).
ВЛ Виктория Лебедева автор-переводчик статьи « 504 Gateway Timeout Error »
504 Gateway Timeout Error
Here's how to fix a 504 Gateway Timeout error
In This Article
Jump to a Section
The 504 Gateway Timeout error is an HTTP status code that means that one server didn't receive a timely response from another server that it was accessing while attempting to load the web page or fill another request by the browser.
In other words, 504 errors usually indicate that a different computer, one that the website you're getting the message on doesn't control but relies on, isn't communicating with it quickly enough.
Lifewire / Ashley Nicole DeLeon
Are You the Web Manager? See the Fixing 504 Errors on Your Own Site section further down the page for some things to consider on your end.
A 504 Gateway Timeout error can appear in any internet browser, on any operating system, and on any device. This means that it's possible to get the error on your Android or iPhone phone or tablet, in Safari on a Mac, in Chrome on Windows 10 (or 8, or 7, . ), etc.
How You Might See the 504 Error
Individual websites are allowed to customize how they show «gateway timeout» errors, but here are the most common ways you'll see one spelled out:
504 Gateway Timeout
HTTP 504
504 ERROR
Gateway Timeout (504)
HTTP Error 504 — Gateway Timeout
Gateway Timeout Error
A 504 Gateway Timeout error shows up inside the internet browser window, just like normal web pages do. There might be a site's familiar headers and footers and a nice, English message on the page, or it could show up on an all-white page with a big 504 at the top. It's all the same message, regardless of how the website happens to show it.
Causes of 504 Gateway Timeout Errors
Most of the time, a 504 Gateway Timeout error means that whatever other server is taking so long that it's «timing out,» is probably down or not working properly.
Since this error is usually a network error between servers on the internet or an issue with an actual server, the problem probably is not with your computer, device, or internet connection.
That said, there are a few things you can try, just in case:
How to Fix the 504 Gateway Timeout Error
Retry the web page by selecting the refresh/reload button, pressing F5, or trying the URL from the address bar again.
Even though the 504 Gateway Timeout error is reporting an error outside of your control, it might only be temporary.
Restart all of your network devices. Temporary problems with your modem, router, switches, or other networking hardware could be causing the 504 Gateway Timeout issue you're seeing. Just restarting these devices could help.
While the order you turn off these devices isn't important, the order that you turn them back on is. In general, you want to turn devices on from the outside-in. If you're not sure what that means, check out the link at the beginning of this step for a complete tutorial.
Check the proxy server settings in your browser or application and make sure they're correct. Incorrect proxy settings can cause 504 errors.
Most computers don't have proxy settings at all, so if yours are empty, just skip this step.
See Proxy.org for an updated, respected list of proxy servers that you can choose from.
Change your DNS servers, especially if all the devices on your network are getting the same error. It's possible that the 504 Gateway Timeout error you're seeing is caused by an issue with the DNS servers you happen to be using.
Unless you've previously changed them, the DNS servers you have configured right now are probably the ones automatically assigned by your ISP. Others are also available to choose from. See our Free & Public DNS Servers list for options.
If nothing has worked up to this point, contacting the website is probably the next best thing to do. There's a good chance the website administrators are already working to fix the root cause of the 504 Gateway Timeout error, assuming they're aware of it, but there's nothing wrong touching base with them.
Most major sites have social networking accounts they use to help support their services and some even have telephone numbers and email addresses.
If it's starting to look like the website might be giving a 504 error for everyone, searching Twitter for real-time information about the site's outage is often helpful. The best way to do this is to search for #websitedown on Twitter. For example, if Facebook might be down, search #facebookdown.
Contact your internet service provider. It's very likely at this point, after following all the troubleshooting above, that the 504 Gateway Timeout that you're seeing is a problem caused by a network issue that your ISP is responsible for.
Come back later. You've exhausted all your options at this point and the 504 Gateway Timeout error is either in the hands of the website or your ISP to correct. Check back with the site regularly. No doubt it'll start working again soon.
Fixing 504 Errors on Your Own Site
A lot of times this isn't your fault at all, but it's not the user's either. Start by checking that your server can properly resolve all the domains that your applications require access to.
Very heavy traffic might result in your server serving a 504 error, even though a 503 would probably be a bit more accurate.
In WordPress specifically, 504: Gateway Timeout messages are sometimes due to corrupted databases. Install WP-DBManager and then try the «Repair DB» feature, followed by «Optimize DB,» and see if that helps.
Also, make sure your HTACCESS file is correct, especially if you have just reinstalled WordPress.
Finally, consider contacting your hosting company. It's possible that the 504 error that your website is returning is due to an issue on their end that they'll need to resolve.
More Ways You Might See a 504 Error
A Gateway Timeout error, when received in Windows Update, generates a 0x80244023 error code or the message WU_E_PT_HTTP_STATUS_GATEWAY_TIMEOUT.
In Windows-based programs that inherently access the internet, a 504 error might show up in a small dialog box or window with the HTTP_STATUS_GATEWAY_TIMEOUT error and/or with a The request was timed out waiting for a gateway message.
A less common 504 error is Gateway Time-out: The proxy server did not receive a timely response from the upstream server, but the troubleshooting (above) remains the same.
Errors Like 504 Gateway Timeout
A number of error messages are similar to the 504 Gateway Timeout error because they all occur on the server side. A few include the 500 Internal Server Error, the 502 Bad Gateway error, and the 503 Service Unavailable error, among a few others.
There are also HTTP status codes that aren't server-side, but instead client-side, like the commonly seen 404 Not Found error. Several others exist as well, all of which you can see in our HTTP Status Code Errors page.
How to Fix the 504 Gateway Timeout Error on Your Site
The 504 Gateway Timeout error is one of the most common HTTP 5xx errors faced by website owners and site visitors. For many WordPress blogs and ecommerce platforms, knowing how to fix server errors like this is crucial to keep their hard-earned visitors from bouncing to competitor sites.
As the 504 Gateway Timeout error doesn't tell you why it occurred, it's hard to pinpoint what's causing the server timeout. This article will help you understand it in detail, learn how to diagnose its cause, and then fix it.
After trying all the various solutions mentioned in the post, your site should be up and running in no time.
Sounds interesting? Let's dive in!
Prefer to watch the video version?
What Is the 504 Gateway Timeout Error?
Every time you visit a website in your browser, the browser sends a request to the web server where the site is hosted. The server processes the request and responds with the requested resources.
How HTTP requests and responses work.
The server response includes one of many HTTP status codes to indicate the response's status to the browser. But not all these HTTP status codes are errors. For instance, a 200 OK status code means that the server processed the request successfully and "Everything is OK."
The 5xx class of HTTP status codes indicates that something's wrong with the server, the server is aware of it, and it cannot carry out the client request. As a result, they're also referred to as Server Error 5xx status codes.
Officially, five status codes are specified under the 5xx class (500, 501, 502, 503, 504). You may come upon many unofficial codes too (506, 507, 509, 520, etc.).
The Internet Engineering Task Force (IETF) defines the 504 Gateway Timeout error as:
The 504 (Gateway Timeout) status code indicates that the server, while acting as a gateway or proxy, did not receive a timely response from an upstream server it needed to access in order to complete the request.
To simplify it further, this error occurs when two servers are involved in processing a request. The first server (typically the main server) times out, waiting for a response from the second server (upstream server).
The 504 Gateway Timeout error manifests itself in various forms. Here are some ways it usually shows up:
The 'HTTP ERROR 504' in the Chrome browser.
The 504 Gateway Timeout error is similar to the 502 Bad Gateway error, which indicates that the first server received an invalid response from the second server (upstream server).
The '504 GATEWAY TIMEOUT' status code in Chrome DevTools.
Variations of the 504 Gateway Timeout Error
The browser displays any 504 Gateway Timeout error inside it, just like any other error. As there are various operating systems, web servers, browsers, and user agents, it can show up in multiple ways.
Below are a few common 504 error message variations that you may run into:
504 Gateway Timeout
504 Gateway Timeout NGINX
NGINX 504 Gateway Timeout
Gateway Timeout Error
Error 504
HTTP Error 504
HTTP Error 504 — Gateway Timeout
HTTP 504
504 Error
Gateway Timeout (504)
This page isn't working — Domain took too long to respond
504 Gateway Time-out — The server didn't respond in time
The page request was canceled because it took too long to complete
Site visitors: There was an issue serving your request, please try again in a few minutes.
Site Owners: There was a gateway timeout. You should visit your error log for more information.
A blank white screen
All the above error responses, though worded differently, point to the same 504 Gateway Timeout server error.
Web servers and websites can customize how they show the 504 Gateway Timeout error to users. Some of them can be cool! It's an excellent tactic to quell their visitors' disappointment.
GitHub's customized HTTP 504 error page.
SEO Impact of the 504 Gateway Timeout Error
All 5xx errors prevent a webpage from loading, making them detrimental to user experience. Hence, search engines like Google take these errors seriously. If the error persists for a long duration, it may even lead to deindexing the webpage from the search engine results.
For example, when Google spiders stumble upon a 503 Service Unavailable error, they'll understand that it's a temporary issue as it's mostly used to enable site maintenance mode. Thus, they'll try to crawl the page again later.
A 504 Gateway Timeout error isn't necessarily temporary as it can be due to multiple reasons. If your site is down for just a few minutes, and if the spiders are trying to crawl it multiple times every minute, they'll try to serve the page from their cache. They wouldn't even notice it.
But if your site is down for 6+ hours or more, then Google will consider the 504 error as a serious site-wide issue that you need to fix as soon as possible. This can impact your SEO negatively.
Viewing the crawl errors in Google Search Console
Google Search Console is one of the best SEO tools to monitor your website's HTTP 5xx errors.
Causes of the 504 Gateway Timeout Error
As the 504 error is due to a timeout between servers, the problem probably isn't with the client's device or internet connection. That also includes your device and connection.
A 504 Gateway Timeout error indicates that the web server is waiting too long to respond from another server and "timing out." There can be many reasons for this timeout: the other server is not functioning properly, overloaded, or down.
The other server need not always be external (e.g. CDN, API gateway). It can also be a server-like entity within the main web server (e.g. reverse proxy server, database server).
How to Fix the 504 Gateway Timeout Error
Without knowing exact details about the site, such as its server configuration, hosting plan, third-party plugins, and the traffic it attracts, you may find it frustrating and overwhelming to fix a 504 Gateway Timeout error.
Since many variables are involved, I recommend you to start by fixing client-side issues, which are pretty rare, and then move towards fixing server-side problems. They're usually the culprits with 504 errors.
1. Try Reloading the Webpage
One of the first things you can try when encountering a 504 Gateway Timeout error is to wait a few minutes and try reloading the page.
You can press the F5 keyboard shortcut to refresh/reload the webpage in most browsers. To remove the page's browser cache before reloading, you can press the CTRL+F5 shortcut combo instead.
Refreshing a webpage in Chrome browser
While you're at it, you can also try loading the site in a different browser to rule that out as an issue. As most 504 errors are due to temporarily overloaded servers, using this solution should make your site come right back.
If waiting and reloading the site doesn't fix the 504 error issue, you can check whether a site is down for everyone or just you. Two useful online tools to test a site for downtime are Down for Everyone or Just Me and Is It Down Right Now?
Testing Kinsta.com on Down for Everyone or Just Me
2. Reboot Your Network Devices
Sometimes, problems with your network devices like modem or router could lead to a 504 Gateway Timeout error. Rebooting these devices could help you with fixing the problem.
While you can switch off all these networking devices in any order, the order you switch them back on is important. Typically, turn these devices on from the "outside-in," following the connection order from the internet service provider to your main client device.
3. Check Your Proxy Settings
A proxy server sits between your device and the internet. It's mostly used to enhance online privacy by hiding private information (e.g. device location) from websites and webservers (e.g. using a VPN).
While it's rare for proxy servers to cause a 504 error, incorrect proxy server settings can sometimes be the reason. You can disable the proxy server and try reloading the webpage to see whether it'll fix the error.
Changing the 'Proxy' settings in Windows 10
Most clients don't use a proxy service, so you can skip this step if you're confident that you don't use any proxy server. However, you might have set it without you even knowing about it. I'd suggest you check your device's and browser's proxy settings to rule this cause out.
4. Check for DNS Issues
A 504 Gateway Timeout error can also be caused by DNS issues on the server-side or the client-side (or both).
The most probable reason for a server-side DNS issue is the FQDN (fully qualified domain name) not resolving the correct IP address or the DNS server not responding . Usually, this occurs when you've just migrated your site to a new server or host. Hence, it's important to wait for the domain's DNS records to propagate fully, which can take up to 24 hours.
You can use free tools like whatsmydns.net DNS Checker or DNSMap to see if your DNS has propagated around the globe.
Checking DNS propagation for your domain on whatsmydns.net
For fixing client-side DNS issues, you could try flushing your local DNS cache. It's like clearing your browser cache, except here, you're flushing the DNS cache from the operating system.
If you're using Windows, you can flush the DNS cache by opening the Command Prompt and entering the following directive:
Flushing the DNS Cache with Command Prompt in Windows
You should see a "Successfully flushed the DNS resolver Cache." message if it worked.
For the latest macOS versions, you can open the Terminal and run the following command:
You won't see any notification in macOS when the process finishes, but you can change that by appending the command with your custom message.
If you're using older macOS versions, the command you need to enter varies based on which version of macOS you're running. For more details, you can refer to the macOS section in Kinsta's in-depth flush DNS tutorial.
If you're using the Linux operating system, then the process is quite similar to macOS as even Linux uses the Terminal as its command-line interface. Since there are many Linux distributions, the exact command you need to run may vary from one distro to another. You can check out Kinsta's guide for more information.
Finally, you can change your client-side DNS servers temporarily. By default, your ISP assigns the DNS servers automatically to you. But you can change these to public DNS IPs temporarily.
Some reliable DNS servers you can try out are Google Public DNS, Cloudflare 1.1.1.1, Quad9 DNS, and Cisco OpenDNS.
Settings custom DNS servers in Windows 10
5. Disable Your Site's CDN Temporarily
Sometimes, the issue could also be with your content delivery network (CDN). If a site's origin server isn't reachable, most CDNs will try to serve the full webpage from their cache.
But most CDNs don't enable this feature by default as it's complex to cache dynamic assets on most sites (e.g. the WordPress admin dashboard).
Setting the 'Cache Everything' page rule in Cloudflare
A straightforward way to troubleshoot this is to disable your CDN temporarily. For example, if you're using the free CDN Enabler WordPress plugin to link your site assets to the CDN URLs, then you can deactivate the plugin and test reloading your site.
The same goes for using any other plugin you may use to connect to your CDN (e.g. WP Rocket, Breeze, W3 Total Cache).
If you can't access your site's admin dashboard, you can disable the plugin via SFTP by renaming the plugin's folder name.
Disable all plugins via SFTP by renaming the plugins folder name
CDNs like Cloudflare or Sucuri, which provide full proxy services, have extra firewalls between their edge servers and your origin server. Hence, you may encounter HTTP 5xx errors more frequently while using them. Most of them cache 5xx errors returned by your origin server, so it's easy to troubleshoot them.
Cloudflare's free plan is prone to throw up a 5xx error. Unfortunately, since it's a full proxy service, there's no quick way to disable it. But before you blame Cloudflare for it, know that Cloudflare shows two variations of the 504 Gateway Timeout error.
504 Gateway Timeout at Cloudflare (Variation 1)
Cloudflare will show you a custom 504 Gateway Timeout error screen when your site's origin server responds with a standard HTTP 504 response.
Cloudflare's custom Error 504 screen
Here, the issue lies with your web server and not Cloudflare. You can try fixing it with the other solutions mentioned below or contact your hosting provider's support for technical help.
504 Gateway Timeout at Cloudflare (Variation 2)
If Cloudflare causes the 504 Gateway Timeout error, the error screen will mention "cloudflare," which is currently the standard server name for all Cloudflare assets. Usually, the error screen will appear as below:
Error screen for 504 Gateway Timeout caused by Cloudflare
Since Cloudflare itself is unresponsive, you'll not see any Cloudflare-branded error screen here.
Most likely, Cloudflare is already aware of the issue and is working on a fix already. You can confirm this by checking the Cloudflare System Status webpage. Alternatively, you can get in touch with Cloudflare support for a quicker resolution.
Check Cloudflare System Status at cloudflarestatus.com
504 Gateway Timeout at Cloudflare Due to Large Uploads
The size of your uploads to your site can also be a reason for the server timeouts. Cloudflare limits upload file size (per HTTP POST request) to just 100 MB on both Free and Pro plans.
Cloudflare's 'Maximum Upload Size' limits for various plans
The issue can be on your host's end or with Cloudflare. You can find out the exact cause by bypassing Cloudflare with your DNS hosts file and trying your upload again.
If you're using Cloudflare with WordPress, I recommend using their free plugin and excluding critical URLs from caching (such as the WordPress admin dashboard). You can refer to Kinsta's detailed post on how to configure Cloudflare settings for WordPress.
6. Check Server Issues With Your Host
Server issues are one of the most common reasons for facing a 504 Gateway Timeout error. Since most WordPress sites are hosted on Nginx or Apache webservers, Nginx or Apache is waiting for a response from something and timing out.
Deploy your application to Kinsta — Start with a $20 Credit now.
Run your Node.js, Python, Go, PHP, Ruby, Java, and Scala apps, (or almost anything else if you use your own custom Dockerfiles), in three, easy steps!
Many clients come to Kinsta for exactly this problem they're facing at other hosts. The conversation goes something like this:
We're getting around 100k visitors per month with more than 200k views. Currently, we're hosting with ____ and we experience 504 errors constantly due to server overload. I don't like how ____ handled the problem, and we were also advised that we will have to move to their dedicated plans soon, which I believe is not necessary.
High-traffic and ecommerce sites are more prone to getting 504 errors because of server overload as they generate many uncacheable requests. However, this issue can crop with any site, including simple blogs. Many hosts will ask you to upgrade to a high-tier plan to fix the issue, which in most cases is unnecessary.
Kinsta uses LXD managed hosts and orchestrated LXC software containers for each site. Thus, every site is housed in its own isolated container with access to all the software required to run it (Linux, Nginx, PHP, MySQL). The resources are 100% private and aren't shared with any other site, even your sites.
Most hosts providing shared hosting plans don't have this capability. Hence, a high-traffic site hosted on the same server as yours may cause your site to throw up a 504 error too.
Apart from isolating each site in its container, Kinsta has also designed its infrastructure to handle thousands of concurrent connections easily. Kinsta even hosts the MySQL databases at localhost, not a remote server. This means no latency between machines, resulting in faster queries and fewer chances of timeouts occurring.
A 212.5% increase in performance after switching to C2.
An overloaded server isn't the only cause for a server timeout. There can be many other reasons for the 504 error:
Slow Server Infrastructure
The server you use to host your site may not have enough resources to handle the load. It's like playing a modern, graphics-intensive videogame on a decade-old PC.
The server just hangs up trying to serve the website. The only solution to this problem is to upgrade to a server with better infrastructure. For this reason, even Kinsta's most basic hosting plan will handle a static site with medium traffic.
Needs More PHP Workers
PHP workers are used to execute your site's code. An ecommerce site that gets 50,000 visitors per month needs a lot more resources than a simple blog with the same amount of traffic. If all the server's PHP workers are busy, they'll build up a queue.
When the queue gets too big, the server disregards old requests, which may cause the server to throw up a 504 gateway error. You can ask your host about increasing your number of PHP workers. This'll allow your site to execute multiple requests simultaneously.
Firewall Issues
Your server's firewall could have some errors or an improper configuration. Perhaps, a few of its rules prevent the server from establishing a connection properly. To know if your firewall is the culprit, you can check your server's error logs.
Network Connectivity Problems
Connectivity issues between the proxy server and the web server could cause delays in responding to HTTP requests. If you use a load balancer, there could also be network connectivity issues with it.
HTTP Timeouts
HTTP timeouts can occur when a connection between the web server and the client is kept open for too long. With WordPress sites, this usually happens when running WordPress imports. One way to resolve this issue is to switch to a faster internet connection.
You can also use a tool with support for WP-CLI to run the scripts directly on the server, bypassing the HTTP connection entirely. For instance, you can use the wp import WP-CLI command to run the WordPress Importer plugin directly through the command-line interface.
Important: 504 Gateway Timeout errors look similar to 503 Service Unavailable errors or 502 Bad Gateway errors. But they're all different. If you're experiencing a 504 error at Kinsta, open a support ticket to get your issue fixed immediately.
For monitoring your site's downtime on your own, you can use a tool like updown.io. It'll check your website's status (or any URL) periodically by sending an HTTP request to it. You can set the check frequency from 15 seconds to 1 hour. If your website isn't responding correctly, it'll notify you with an email or an SMS.
Monitor your website easily with updown.io
You'll get a generous quantity of free credits with every account of updown.io, but if you're looking for cheaper alternatives, you can check out WebGazer or UptimeRobot. Both these tools will help you monitor your site's uptime every 5 minutes for free. That's decent enough for most website owners.
WebGazer website monitoring tool's dashboard
Monitoring your website will give you an idea of how often it's down. This is especially helpful if you're using a shared hosting provider. Most application, database, and managed WordPress hosts (like Kinsta) take care of this automatically for you. Hence it's always recommended to go with them.
For a detailed explanation, check out Kinsta's post on the importance of managed WordPress hosting.
7. Check for Spam, Bots, or DDoS Attacks
Malicious attackers can bring your web server to a crawl by sending too many and/or resource-intensive requests. If your site is getting spammed by bots or undergoing a DDoS attack, it can overwhelm your server and result in 504 Gateway Timeout errors for many genuine users.
You can look at your server traffic and analytics to see if you can spot any irregular patterns in the site traffic. If you're using Kinsta to host your site, you can view this data easily by going to your MyKinsta Analytics dashboard.
MyKinsta Analytics dashboard
Start your investigation by looking at the top client IPs. It'll give you an idea of who generates the maximum number of requests, and from where. If your server suddenly uses up enormous bandwidth or attracts a lot of traffic, then this report will come in super handy.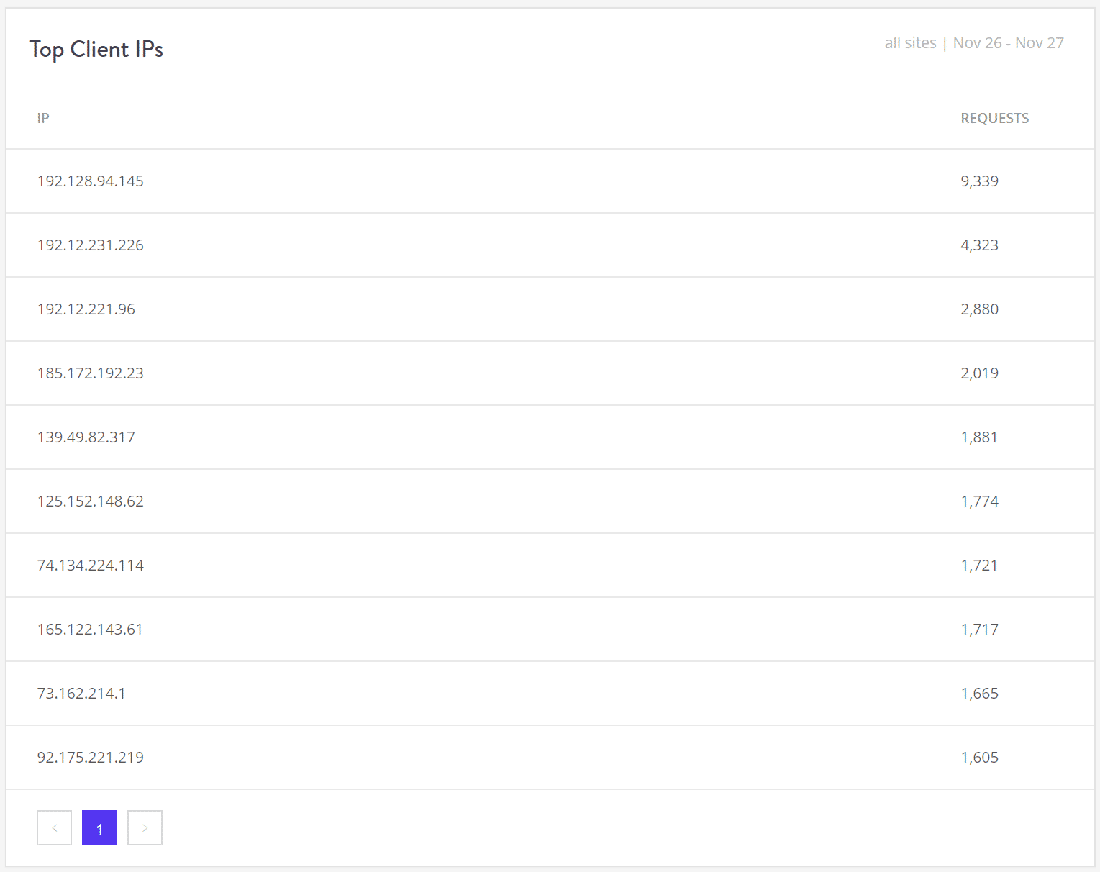 Viewing 'Top Client IPs' in MyKinsta dashboard
Next, you can check out the Cache Analysis report. Here, you can see how many requests are bypassing or missing the cache, or being served from the cache. For performance and stability reasons, you want to cache as many requests as possible, but it's not always possible to achieve that.
Struggling with downtime and WordPress issues? Kinsta is the hosting solution designed with performance and security in mind! Check out our plans
For example, WooCommerce sites generate many uncacheable requests for features such as the shopping cart and the checkout process.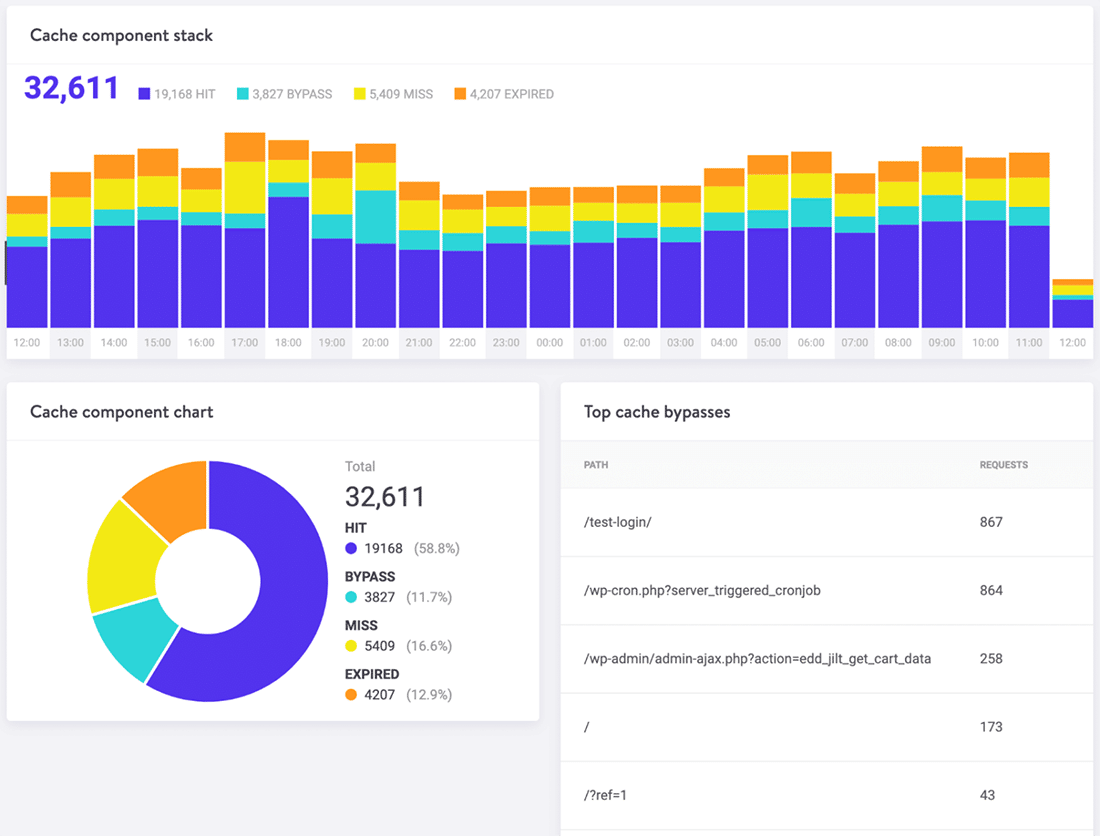 The 'Cache Analysis' screen in MyKinsta
Finally, you can use a security plugin to beef up your website's security by spotting and blocking worrisome traffic/IPs. You can ask your host to block certain IPs too.
Depending upon the length and scale of the attack, this could be a never-ending process of blacklisting IPs as many attackers change their IPs and proxy addresses after getting blocked.
Note: Kinsta doesn't allow its clients to install security plugins as they can have a huge effect on the site's performance, especially its scanning capabilities. As Kinsta uses load balancers with Google Cloud Platform, blocking IPs wouldn't always work as intended.
You can use dedicated security solutions such as Cloudflare or Sucuri to protect your sites from DDoS attacks and spambots. For more, you can check out Kinsta's articles on how to install Cloudflare on your site and how Sucuri helped stop a DDoS attack in its tracks.
8. Repair Your Corrupted WordPress Database
Sometimes, a 504 Gateway Timeout error can be because of a corrupt database, especially in WordPress sites. Typically, this is due to corrupted database tables or files. Sometimes, it can also be caused by a serious security issue like your site or database being hacked.
Repairing a corrupted WordPress database depends on the problem. Plugins like WP-DBManager make it easy to diagnose database issues and repair them. I recommend you to read Kinsta's detailed walkthrough on repairing WordPress database issues to get started.
9. Check Your Site's Plugins and Themes
In most cases, third-party plugins and themes don't cause 504 errors. But there's a slight chance that they might cause server timeouts, usually by queuing up many uncached requests generated by the plugin/theme. As this ties up a lot of your server's PHP workers, it can cause 504 errors.
A great example of this issue is WooCommerce, a plugin installed to add ecommerce functionality to WordPress sites.
The simplest way you can troubleshoot this problem is by deactivating all your plugins. Remember, you won't lose any data if you just deactivate a plugin.
If you can access your admin dashboard, you can go to the Plugins screen, select Deactivate from the bulk actions menu, checkmark all the plugins, and then hit the Apply button. This will disable all of your plugins.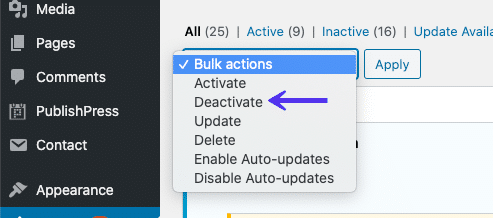 Deactivating all the WordPress plugins through WP admin dashboard
If you can't access your admin area, you can disable plugins via SFTP using the method described before. Just rename the main plugin folder name to disable all the plugins in bulk.
Once you've deactivated all the plugins, check whether your site loads properly. If it works, you must activate each plugin, testing the site after enabling every plugin.
Finally, make sure that your plugins, themes, and WordPress core are up to date. Also, ensure that your server is running the recommended version of PHP.
If you feel this to be too overwhelming, you can always reach out to your host for help. Kinsta uses Kinsta APM and other troubleshooting techniques to help clients narrow down what plugin, query, or script might cause the error.
In the worst-case scenarios, like an inefficient query or bad code in a plugin/theme, you can bring in a WordPress developer to fix the issue.
10. Check Error Logs
Viewing error logs can be very helpful when troubleshooting and debugging 504 errors on your site. This can help you narrow down an issue on your site quickly, especially if it's resulting from a demanding plugin on your site.
If you're a Kinsta customer, you can easily see errors in the log viewer in your MyKinsta dashboard.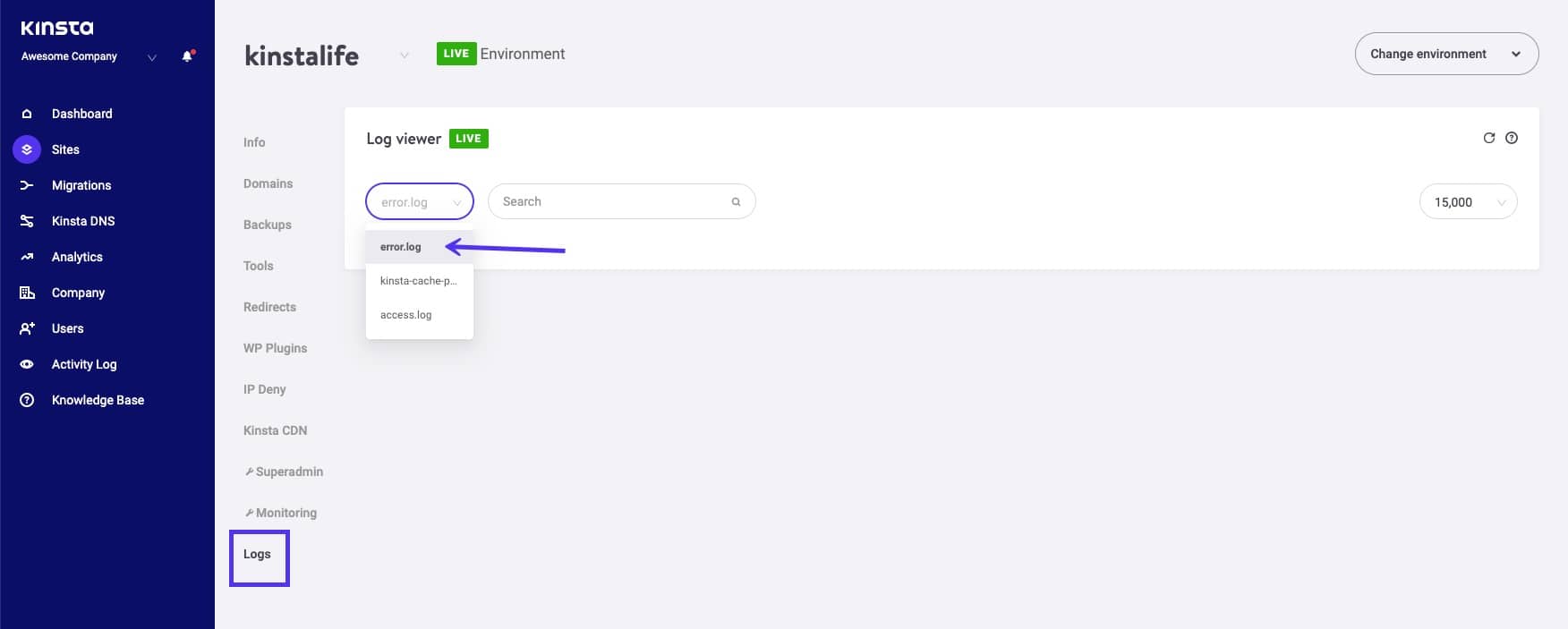 Checking error logs inside the MyKinsta dashboard
If your host doesn't have a logging tool, then you can enable WordPress debug mode by adding the following code to your wp-config.php file:
The WP_DEBUG constant enables or disables the WordPress debug mode. It has two optional companion constants that can extend its features. The WP_DEBUG_LOG constant directs all errors to be saved to a debug.log file within the /wp-content/ directory. If you don't see this file, you can always create one.
The WP_DEBUG_DISPLAY constant controls whether debug logs show up on the HTML page. Setting this to false will hide all errors, but you can review the errors later, as you've also defined WP_DEBUG_LOG as true.
Important: If you have WP_DEBUG enabled in the Kinsta environment, it'll route all errors to the debug.log file and not the error.log in the MyKinsta dashboard.
You can also download the raw WordPress error log files via SFTP. Typically, you can find error logs in your server's root directory in a folder named "logs."
Accessing the WordPress error logs folder via SFTP
Kinsta users can also enable WordPress debug mode from their MyKinsta dashboard. To do that, navigate to Sites > Tools > WordPress Debugging and click the Enable button. This will allow you to see PHP errors and notices without enabling debug mode via SSH or SFTP.
Lastly, you can check the server log files. Depending on which server you're using to host your WordPress site, they're commonly found in these locations:
Apache: /var/log/apache2/error.log/
Nginx: /var/log/nginx/error.log/
You can refer to logging related documentation of Apache or Nginx for more information.
11. Configure Apache or Nginx Settings Properly
You can edit your server config files to increase resource limits for specific directives. This can help you resolve the 504 Gateway Timeout error.
For Apache Webservers
First, add the following code to your httpd.conf:
This setting defines how long the server will wait for certain requests before marking it as a network timeout issue. Its default value is 60 seconds (Apache 2.4 version).
You can only add this directive in your httpd.conf file, not in your .htaccess file. Since most shared hosting providers don't allow you to modify the httpd.conf file, you can try increasing the value of the LimitRequestBody directive in your .htaccess file instead.
Then add the following line to your php.ini file:
The default value of PHP's max_execution_time directive is 30 seconds. Increasing it will allow your site's PHP scripts to run longer.
For Nginx Webservers
If you're running your WordPress sites on Nginx + FastCGI Process Manager (PHP-FPM) or using Nginx as a reverse proxy for Apache, you can tweak the server settings to help prevent 504 Gateway Timeout errors.
504 Gateway Timeout Error on Nginx + FastCGI (PHP-FPM)
First, you must edit your PHP-FPM pool config file. You can find it at the /etc/php7.4/fpm/pool.d/www.conf location in your Nginx server (the exact path may vary based on the PHP version). Alternately, you can run the following command in your terminal to edit the PHP-FPM pool config file:
Next, set the following directive:
After this, you must edit your php.ini file. You can locate it at /etc/php.ini . Open the file and add/change the value for the max_execution_time directive to 300 seconds.
Finally, add the following code to your nginx.conf file's location block:
Reload Nginx and PHP-FPM for the changes to take effect.
The exact code to reload PHP-FPM will vary based on the PHP version installed on your server. Test your site to see whether it has fixed the issue.
504 Gateway Timeout Error on Nginx Proxy
If you're using Nginx as a reverse proxy server for Apache, then you can make it more lenient towards server timeouts by adding the following directives to your nginx.conf file:
Don't forget to reload Nginx after making your changes.
sudo service nginx reload
Other HTTP Errors Like 504 Gateway Timeout
As mentioned earlier in the article, many other HTTP 5xx errors are just like the 504 Gateway Timeout error. It's because they all happen on the server-side. These errors include:
Other HTTP errors caused due to client-side issues, like the 404 Not Found error, are also like the 504 error. You can refer to Kinsta's detailed guide and list of HTTP status codes for more information.
Summary
Your site can be affected by the 504 Gateway Timeout error because of multiple reasons. In this article, you learned how to troubleshoot them all. Typically, these errors are caused due to server-side issues, in which case you can reach out to your host and get it resolved quickly.
However, you must also understand that this error can be due to third-party plugins, themes, services, inefficient database queries, or a combination of two or more of these. If you're maxing out your server's resources (e.g. PHP workers), it's recommended to optimize your site for performance.
If you still find that your website is timing out, then it might very well be that you need to upgrade your hosting plan or the number of PHP workers. I recommend you to consider this option only after you've exhausted all the other solutions described in this article.
From simple static sites to complex ecommerce and membership sites, Kinsta's scalable hosting plans are designed to accommodate all types of websites. To learn more about our scalable cloud hosting, check out this article!
Did we miss anything? If you're still finding it difficult to fix the 504 Gateway Timeout error on your site, leave a comment below.
Get all your applications, databases and WordPress sites online and under one roof. Our feature-packed, high-performance cloud platform includes:
Easy setup and management in the MyKinsta dashboard
24/7 expert support
The best Google Cloud Platform hardware and network, powered by Kubernetes for maximum scalability
An enterprise-level Cloudflare integration for speed and security
Global audience reach with up to 35 data centers and 275+ PoPs worldwide
Test it yourself with $20 off your first month of Application Hosting or Database Hosting. Explore our plans or talk to sales to find your best fit.